FAQ's
Do you do supply and install?
We supply kit form structures only. We can put you in contact with builders in your local area who are able to supply you with an independent quote.
Can I build it myself?
Pre-Engineered Buildings are not to be treated lightly. They are a structural dwelling and are designed to be installed by builders or owner/builders with the relevant builder's licenses to cover the building works required. Diamond Tough will accept no responsibility for any building works conducted by others.
Many individuals without trades have successfully constructed these buildings to the same quality standards achieved by trades people.
Do you use Imported materials?
No.
Diamond Tough exclusively uses quality Australian BlueScope Steel
Our full colour range can be view at http://www.colorbond.com/
Is it Portal or Stud frame?
Only Portal frames are available currently.
How long until it's delivered?
From the date we receive your deposit it is approximately 4 weeks for delivery Australia wide. This of course depends on whether you wish to put a hold on manufacture until you have received council approval.
Will you organise my council approval?
Diamond Tough will not seek council approval on your behalf. We do supply you with all the required documentation you will need to submit for this process.
I have an existing shed and I would like to extend on this, can you quote to suit?
Our engineering doesn't support attaching to an existing structure. All our designs are free standing only.
What size Purlins will be used for the columns and rafters in my building?
The exact sizes of materials used in your structure aren't available to us until we have received the engineering. Engineering will not be ordered until the required deposit has been paid. An indication can be given but again nothing is confirmed until certification is received.
How do I order a shed?
Supply Contract – Confirmation of contract requires a signed quote page/shed drawing page and a deposit. All cladding profiles/colours must be filled out in the area detailed below.
Progress payments – payments are to be made as per the following schedule: –
Deposit – 15% upon confirmation of order to progress engineering certification.
Progress payment – 60% of contract amount to proceed with manufacture of kit components.
Final – Balance of contract amount 7 days prior to delivery.
Where can you deliver?
These products can be delivered into all states of Australia, Tasmania included. All components manufactured are consolidated and delivered by the Metroll Group. With over 26 manufacturing locations there will be an outlet local to your address for timely and trouble-free delivery.
Can you quote to my specifications?
Diamond tough prides itself on versatility. Therefore, we do not have set sizing or pricing. All our quotes are designed to meet your specific requirements. If the design, you are after isn't specified please call us 1300 03 03 26 and speak with one of our consultants.
Do you provide a warranty?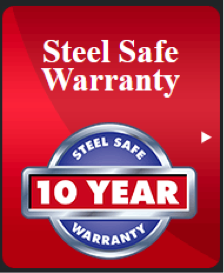 This warranty is underwritten by all the material suppliers who manufactured the products in your shed. Steel Safe Warranty fully warrants the products in your building for the term of the manufacturer's warranty.
The whole building is covered by the Steel Safe Warranty, guaranteeing your building structurally for 10 years.
When you order a Diamond Tough building you will receive a unique product serial number along with a Steel Safe Warranty certificate. Any product defects within the warranty terms shall be replaced, promptly and delivered to you at no charge.
Steel Safe Warranty is your security for your investment.
What does the kit price include?
All sheeting (roof and wall), flashings, frame work, fasteners, gutters, downpipes and accessories are included in your kit cost. You will also receive all relevant engineering documents for you to submit to council, (submission to your local building authority should be obtained prior to manufacturing components for your kit in case there is a request for change to meet local obligations). A complete step by step instruction guide – designed specifically for your shed is also inclusive of this price. There are no hidden surprises at the end.
Get a quote today
call 0407 480 885